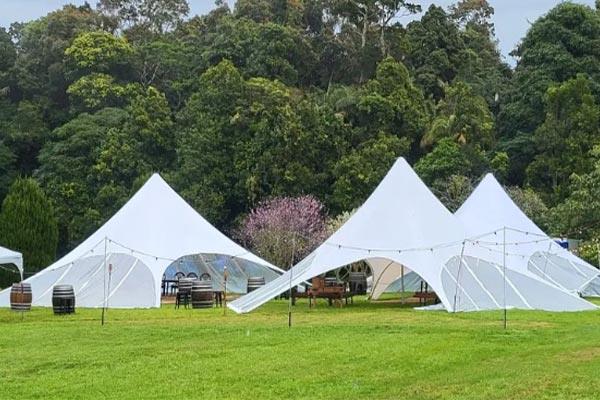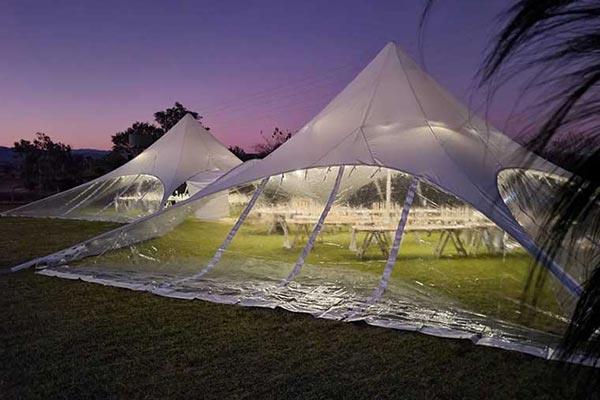 Why Choose our Wedding Tents & Marquee Hire Packages
For flexible wedding tent hire and marquee hire packages, choose The Bell Tent Hire Company. Our Brisbane based team cater to weddings and other private and corporate events of all sizes across SE QLD and Northern NSW. We can even set-up a bell tent glamping village for you!
Find out below why we're one one of the leading glamping and marquee hire operators in the region.
Commonly asked questions and answers
What materials are your glamping tents made from?
All of The Bell Tent Hire Co's glamping tents are made from a high-quality canvas and cotton blend, providing a simplistic and elegant look.
Are the bell tents waterproof?
Every bell tent is 100% waterproof and made to withstand the elements, making for a comfortable and relaxed stay.
What types of events are the event marquees suitable for?
The event marquees offer limitless versatility. They provide ideal protection from the elements while providing huge amounts of shaded space to accommodate all types of stand-up and sit-down events.
How many different sizes of glamping tents do you offer?
The Bell Tent Hire Co has 71 glamping tents available for hire which come in 4 different sizes, so you'll have no trouble renting a bell tent that perfectly meets your needs:
A 3m bell tent is ideal for 1 person
A 4m bell tent can perfectly accommodate 2 people
A 4.5m bell tent comfortably sleeps 2 to 3 people – with some additional wiggle room
A 5m bell tent comfortably sleeps 4 people
How many people can fit inside a marquee?
The smaller of the two types of large marquees, the Starshade 1300 (x 1), seats 35 people and accommodates 60 standing guests, while the Starshade extra-large marquee 1700 (x 1) seats 70 people and accommodates 90 standing guests – or join together 2x 1300 marquees or 2x 1700 marquees to double their capacity.
What types of packages do you offer?
The Bell Tent Hire Co offers flexible packages to suit all needs and budgets. Whether you prefer a no-fuss option where your marquee or tent, and all the luxurious extras, are set up and included, or you'd like a more back-to-basics experience, it's all possible!
Can I rent additional items with the bell tent or marquee?
Along with the bell tent itself and the inclusions of your chosen glamping package, you can also hire additional items such as extra air mattresses, guest towels and welcome baskets. Even festoon lighting and colour wave lighting is available.
What services are included with the tents and marquees?
The Bell Tent Hire Co delivers your glamping tent and/or luxury marquee to your chosen secure location, sets it up, and then pulls it down at the end of your hire period. With all the hard work taken care of, you're free to simply enjoy yourself!
Do you offer delivery to Brisbane?
We deliver within a 200km radius of Brisbane. Travel, setup, and pull-down fees are also kept to a minimum at a flat rate of only $195 or only $295 if your setup site is over 200km from Brisbane.
Do you offer delivery outside of Brisbane?
We also service rural locations within a 4-hour drive of Brisbane. Our 4-hour rural service area extends from around Grafton in the south, up north to around the Bundaberg region, and out west to around the area of Goondiwindi. A minimum hire of 10 x Bell Tents applies to rural bookings. Please contact us for more details.
Is there a minimum rental period for the tents and marquees?
You can rent from The Bell Tent Hire Co for any period you like, whether one night, a weekend, a week or even longer.