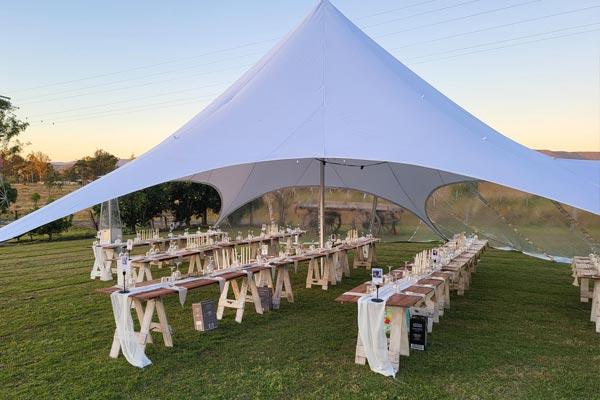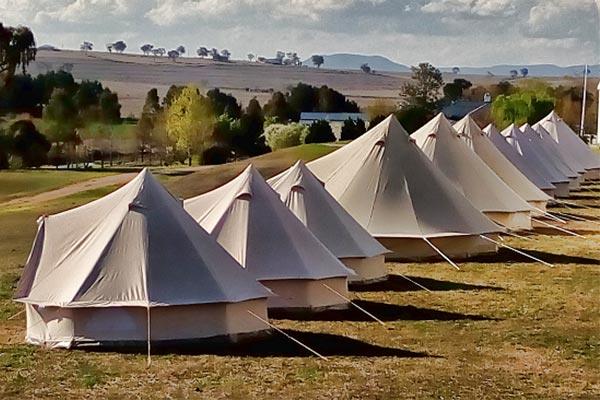 PARTY TENT HIRE & PARTY MARQUEE HIRE FOR EVENTS & FUNCTIONS
Are you planning a private outdoor event or special function? Our tent and marquee hire company offer affordable SE QLD & Northern NSW party tent hire and party marquee hire services. Whether you need large wedding marquee hire, or bell tents for a glamping getaway holiday or function, get in touch with us for a free quote.
No matter what type of event or celebration you're hosting, The Bell Tent Hire Company can help. Keen to throw a huge private birthday party? Or perhaps a large Hens or Bucks Night party? Or how about any other type and size of private event including small intimate gatherings?
Our party tent hire and party marquee hire services can make it an event that will be well remembered for all the right reasons!
Waterproof and versatile, our high-quality Bell Tents and StarShade large marquees for hire amplify the celebratory atmosphere and are perfect for any outdoor location within 6 hours drive of Brisbane. Further afield locations can be accommodated, but are subjected to extra fees due to the extra travel time required.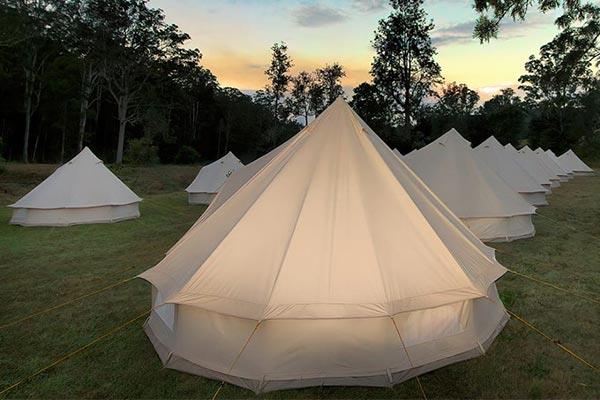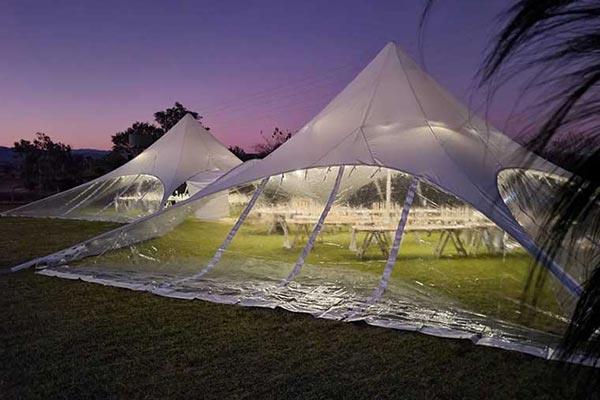 Choose from Diverse Bell Tent Hire & Large Marquee Hire Packages
The beautiful, durable, canvas Bell Tents for hire are of the highest quality available and come in various sizes to accommodate any size of event. They make for great party tents and wedding tents for your guests, while our giant StarShade large marquees for hire take the definition of 'luxury marquee' to new heights (and widths).
StarShade event marquees are in a class of their own boasting a connected covered walkway (if you opt for 2 StarShades) and panel wall archways which are fitted with vertical zippers effectively turning the side wall into a door.
These big luxury marquees come in 2 sizes – the 1300 Starshade (13 metres in diameter) and the 1700 Starshade (17 metres in diameter).
The smaller, party and wedding marquee type can seat 35 people and accommodate 60 standing guests. When two 1300 Starshade's are joined together, the capacity is doubled. The larger marquee type can seat 70 people and accommodate 90 standing guests, and when two 1700 Starshade's are joined together, the capacity is doubled.
So Much Versatility
Whether you're planning an outdoor cocktail-style, stand-up event, or a sit-down event, the Bell Tent Hire Company has the shade and weather protection solution perfect for enhancing the party vibes while keeping you and your guests safe from the elements.
Choose from 3 glamping tent rental packages, and 4 sizes of Bell Tents for hire, plus add-on any other tent inclusions you would like such as air mattresses, towels, external festoon lighting, and welcome baskets.
The StarShade large marquees for hire come in two sizes, large and gigantic! The smaller of the two sizes measures in at 13 metres in diameter, and the larger of the two sizes measures in at 17 metres in diameter.
Hire 1 marquee or opt for two of the same size and connect the two together, the choice is yours! Mix and match as you desire or call us first for expert advice on what we'd recommend as the best configuration of Bell Tents and/or StarShade hire marquees for your event.
The great thing about luxury marquee hire is that the StarShades large marquees give you the freedom and flexibility to cope with fluctuating numbers, and allow your guests to eat, drink, and dance, no matter the weather.
Private Event Glamping Brisbane – Parties, Weddings, Functions & Events
While the Bell Tents provide ideal, all-weather outdoor accommodation for guests staying the night, the luxury StarShade event marquees can be used for a variety of applications. Here's some ideas:

Create a covered outdoor dancefloor.
Host a buffet-style sit down dinner or catered cocktail-style, stand up function.
Allocate a chill out zone for when your guests need a reprieve from all the party shenanigans.
Want to play outdoor activities and games during your private party but unsure if the weather will cooperate? The huge StarShade large marquee is the perfect solution to ensure your party plans can continue, rain, hail or shine.
Throwing a wedding? Wedding marquee hire can also be used to create a play area space for child minding of guests children throughout the wedding as needed.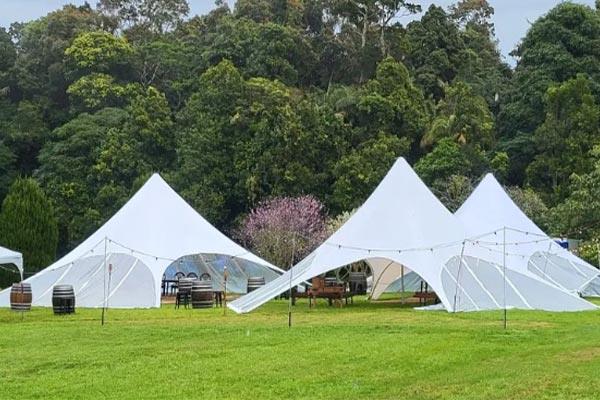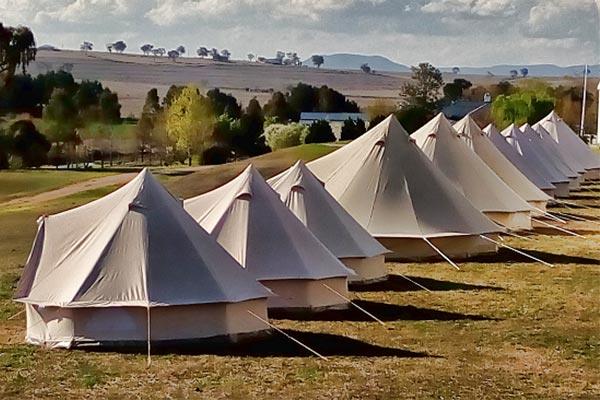 Let the Bell Tent Hire Company do the Grunt Work
Our team can take the stress out of preparing your next private event or outdoor wedding and give you peace of mind.
We can provide decades worth of advice, helping you select the right amount, size, and package option of Bell Tents for hire, and we can advise on the best size of StarShade party marquees and configuration for your event.
No matter if you're planning a small intimate gathering, a larger special occasion, or a huge Birthday party, or Bucks and Hens party, you can rely on the Bell Tent Hire Company to look after the set-up and pull-down of the Bell Tents and StarShade marquees from A to Z.
Contact us with any questions you may have about our hire marquees and tents, and to help you figure out the best package and combination for your event.
Service Area
The Bell Tent Hire Co delivers your glamping tent and/or luxury marquee to your chosen secure location within a 200km radius of Brisbane, sets it up and then pulls it down at the end of your hire period. With all the hard work taken care of, you're free to simply enjoy yourself! Travel, setup and pull-down fees are also kept to a minimum at a flat rate of only $195 or only $295 if your setup site is over 200km from Brisbane.
We also service rural locations within a 4-hour drive of Brisbane. Our 4-hour rural service area extends from around Grafton in the south, up north to around the Bundaberg region, and out west to around the area of Goondiwindi. A minimum hire of 10 x Bell Tents applies to rural bookings. Please contact us for more details.